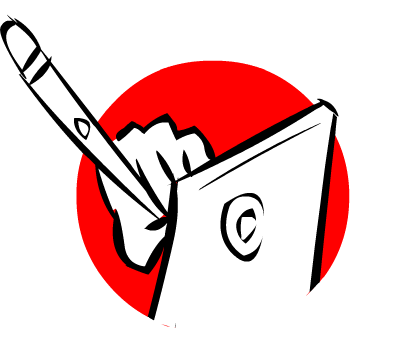 WHO AM I

I am a cartoonist and caricaturist, having commenced in 1990. I have worked with dozens of companies that organise events as a creator of caricatures, while I have also illustrated corporate gifts, invitations, books, posters and advertising campaigns. Technology goes hand in hand with what I do. More recently, I have been doing sketches in tourist areas of Greece, among other places. It would be my pleasure to get to know you, and of course to collaborate. For further information, feel free to look through my website.
WHAT I DO
I do face, body and background in my caricatures. I also add elements that reflect the hobbies, profession or character traits of each person. Every sketch is original and unique. I design either on paper using a marker and coloured graphite, or on my computer using a stylus. I can then send the result via email. If you would like to acquire a caricature cartoon quickly and easily, you only need to send me via email a few photos of the person or persons you have in mind, together with any relevant ideas you might have.
CARICATURES
A caricature is a kind of portrait that accentuates the special characteristics of someone's face or body in a humorous way. There are analogue and digital caricatures. The former are done on paper, while the latter are designed on computer with the use of a stylus. More specifically:
Analogue caricatures have
Classic value
Tangible colours and texture
The uniqueness that they are not copies
The ability to be made on a variety of materials (eg cloth, canvas, wood)
No need of a printer
Digital caricatures on the other hand can be
Altered and corrected easily
produced in multiple copies
Printed on many surfaces and materials (T-shits, cups etc)
Easily modified in size
Sent electronically, quickly and efficiently
To see samples, see below. Click the image to enlarge it.
WEDDING AND BAPTISM INVITATIONS
Are you getting married? Great! I can add a brushstroke of further happiness to your wedding by designing your invitations with your own caricatures on them. Something equally beautiful can be prepared for the baptism invitations. You will no doubt impress your family and friends, who will remember the occasion fondly for a very long time. The process is quick, simple and inexpensive. Place your order now! See several sample here.
PARTICIPATION IN EVENTS
Having sketched at dozens of events as a cartoonist, working closely with the companies that produce them, I can make 20 black & white and 10 colour cartoons per hour. All I need is a small table, two chairs and enough light.

I may also use special paper, as for example paper that has a figure or a logo printed on it. Or paper that is in a shape of its own. Alternatively, we could use another material altogether, such as fabric.

Making cartoons at an event is an original endeavour that is common in many countries. It ensures that your guests leave joyfully with their own gift memento of the occasion.

It is ideal for dinner parties, wedding receptions, advertising campaigns, product promotion, children's parties, conferences, artistic and sporting events.

I will be thrilled to be a part of your next function.

See some photos of past events I have worked at.

Warning: Declaration of IgController::display() should be compatible with Joomla\CMS\MVC\Controller\BaseController::display($cachable = false, $urlparams = Array) in /home/sites/kostasvoulgaris.com/public_html/kcartoons/components/com_igallery/controller.php on line 14

Warning: count(): Parameter must be an array or an object that implements Countable in /home/sites/kostasvoulgaris.com/public_html/kcartoons/components/com_igallery/helpers/utility.php on line 297

Warning: count(): Parameter must be an array or an object that implements Countable in /home/sites/kostasvoulgaris.com/public_html/kcartoons/components/com_igallery/views/category/tmpl/default_main.php on line 17

ANIMATED CARTOONS
A new service we offer is the production of animated cartoons! Tell us your idea and we will make it materialise. This can have many applications: promotion on your website, an advertising campaign, a promotional DVD, or a how-to-use-the-product clip. It would certainly make a unique gift. Imagine the excitement and laughs it would create for your friends before or after your wedding! See several samples below.
TRAVELING AND DRAWING
You can view the slideshow below left
I first began drawing in public during the summer of 2006.

Since then, I just fell in love with it. I've travelled to many picturesque places as a result and have been asked to do the portraits of thousands of people. Apart from the amazing locations, I've met wonderful people and have had countless stimulating conversations.

I feel very fortunate to live in such a beautiful country. It has so many ideal locations for an artist to offer his or her services to tourists. I try to choose the areas of alternative tourism, without the crowds and with quiet beaches of crystal clear water, or mountains, so that I can enjoy nature at the same time.

The creative process is most entertaining, both for me and my 'models.'

Look for locations I am at, or will soon be, based on the calendar below:
PRICELIST
Digital
Euros 20 €
Color +10€
Body +10€
Background (from) 10€
Free presamples
Δυνατότητα εκτύπωσης
ORDER NOW
Event booking
Contact for price
Από δύο ώρες
Αξιοπιστία και εχεμύθια
Υλικά δικά μου
Δυνατότητα μόνιμης συνεργασίας
Δυνατότητα μετακίνησης
BOOK NOW